nonwoven bouffant cap making machine
Introduction to the machine and performance of the non-woven bouffant cap machine
nonwoven bouffant cap making machine
The company independently researched and developed the "non-woven bouffant cap", which is a special machine for the production of elastic non-woven hoods. The products are suitable for hospitals or dust-free industries, etc., and can also be used for household or back kitchen hygiene. The machine has a stainless steel structure and an independent electrical control box. It only needs one person to operate it. It completes automatic control from feeding to forming and collecting.
Non-woven bouffant cap machine, also called non-woven mob cap machine, is exquisitely designed, no noise, strong ultrasonic welding, automatic input like ribs, product length change gear adjustable, frame is all aluminum profile body, neat and beautiful , No welding, no spray paint. Man-machine interface touch screen control is convenient for operation. The emergency stop button ensures safe production.
Performance characteristics The two ends of the round cap and the elastic band are effectively fixed, and the product is automatically folded from the raw materials to the finished product, which greatly saves labor, improves production efficiency, and ensures product quality.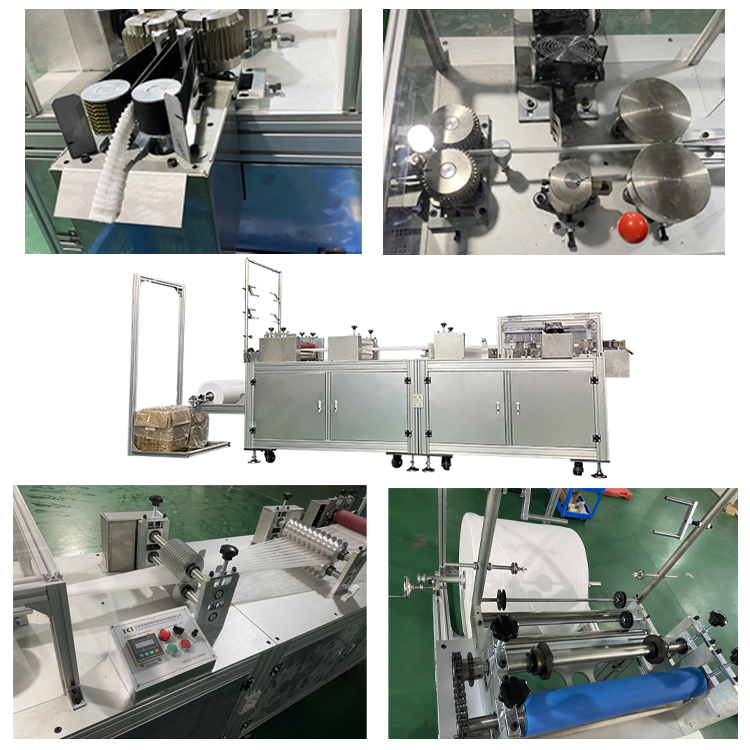 Machine characteristics:
◆High stability, excellent performance, low failure rate
◆Stainless steel structure, independent electrical control box, compact machine, small space
◆The surface parts are all chrome-plated, and the covering parts are made of stainless steel, which is beautiful and clean.
◆Adjustable ultrasonic welding
◆One machine is changeable, changing molds can produce strip caps of various specifications