disposable dust anti pollution earloop face mask
Made of high-quality cotton and non-woven filter cloth, the 3-layer filtration. system of the safety mouth covers effectively prevents dust, PM 2.5 and a series of airborne pollutants. Multiple protections to block dust, harmful substances, gases and odors, and reduce infections. COMFORTABLE FULL PROTECTION The 3 layers protective mouth cover masks are light and not bulky. The comfortable material allows you to wear them for a long time without rubbing your face with good elastic ear-loop. The disposable face masks cover your nose, mouth and chin, offering you full protection. One size for most adult men or women. PRODUCT DESCRIPTION Color & Style : Blue Ear-loop Filtration Rate: BFE>=90% Fluid Resistance/Anti-fog: Fluid resistant Packaging: 50 PCS Disposable Face Masks For Home & Office - 3-Ply Breathable & Comfortable Filter Safety Mask-Pack of 50
Non woven filter wholesale 3 ply face mask disposable dust anti pollution earloop face mask manufacturer
DESCRIPTION
Size
Adult Size
Width across face: 175 mm + / - 2 mm
Depth pleated: 95 mm + / - 2 mm
Depth in full: 175 mm + / - 2 mm
Nose strip: 95 mm + / - 2 mm
Loop size: 155 mm + / - 5 mm
Children Size
Width across face: 145 mm + / - 2 mm
Depth pleated: 95 mm + / - 2 mm
Depth in full: 145 mm + / - 2 mm
Nose strip: 95 mm + / - 2 mm
Loop size: 155 mm + / - 5 mm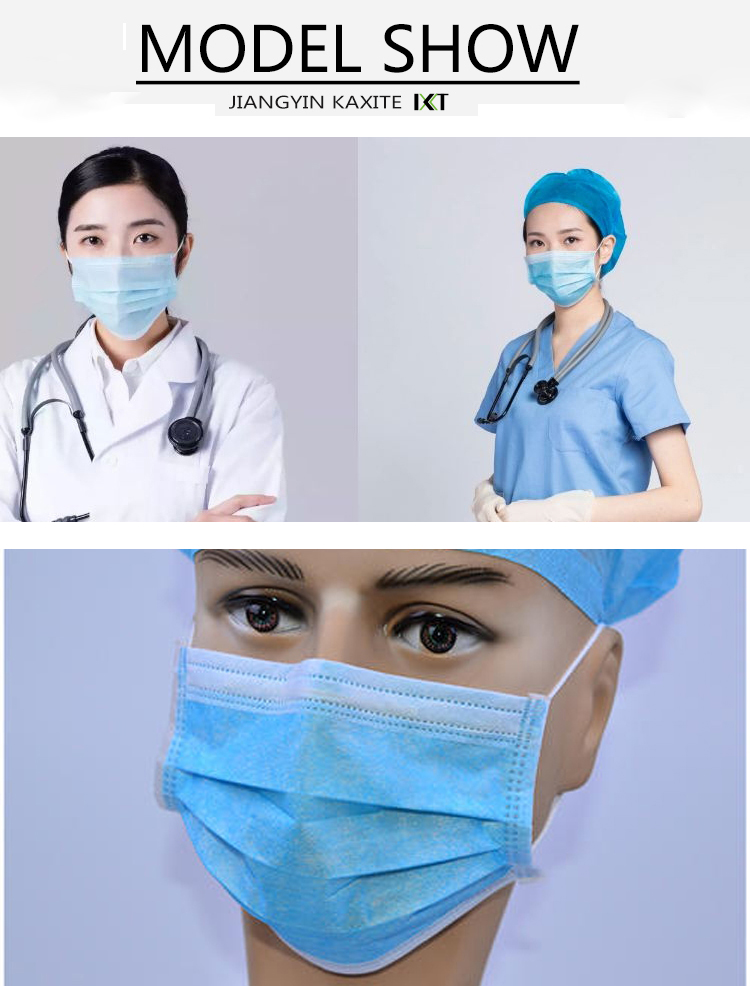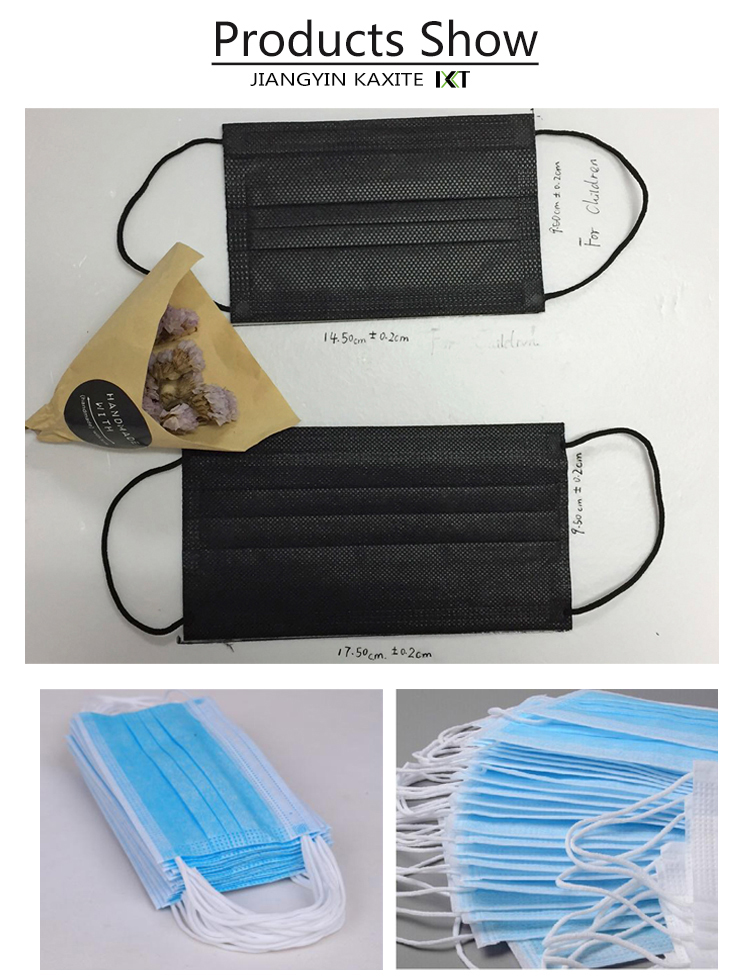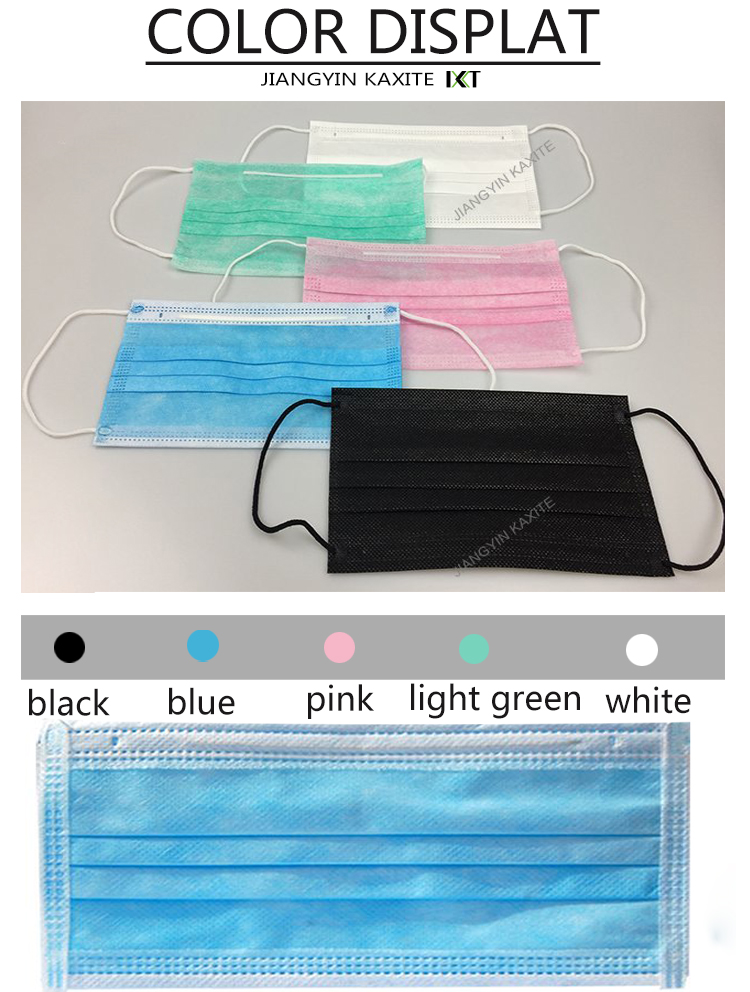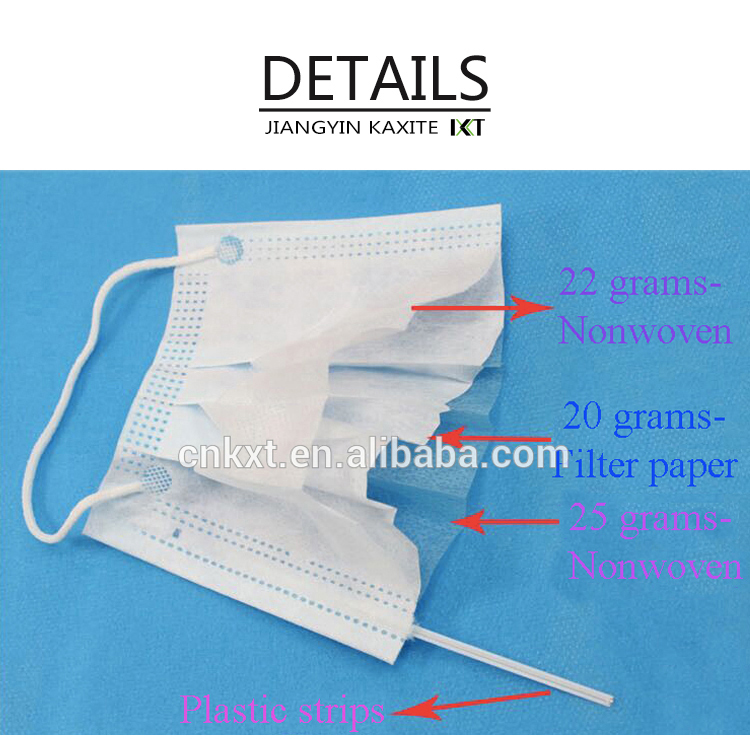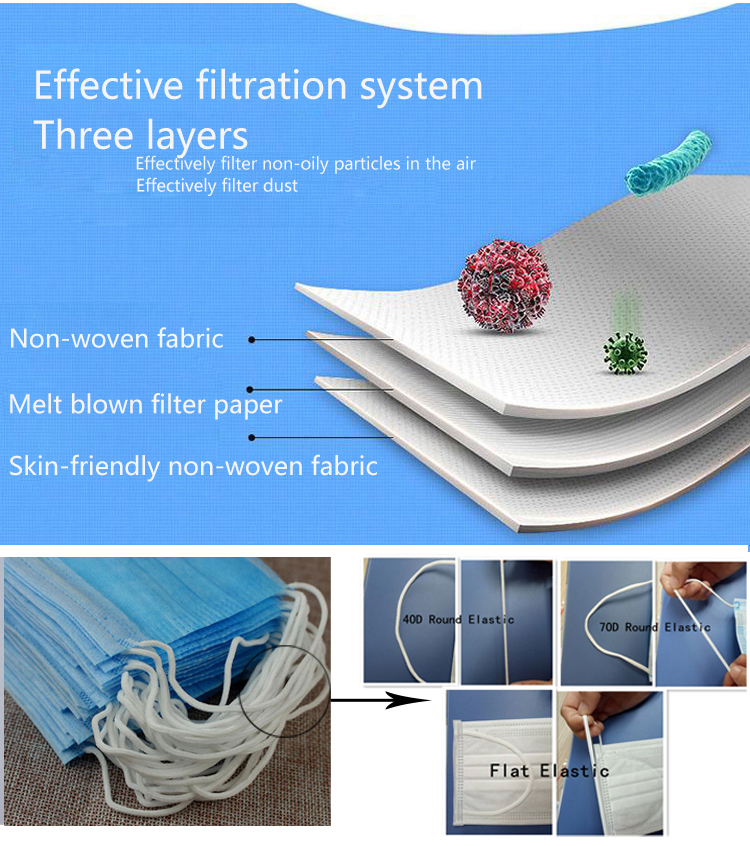 | | |
| --- | --- |
| 1st layer | Polypropylene Spunbond nonwoven |
| 2nd layer | Meltblown Nonwoven |
| 3rd layer | Polypropylene Spunbond nonwoven |
| Nose strip | PE wire (Metal Free) |
| Ear-Loop | Flat elastic or round elastic (latex free) |
22g+22g+25g (N95), 22g+22g+28g(N95), 25g+22g+25g(N99), 20g+18g+22g(smooth), 18g+20g+20g(N95) etc ,or custom-made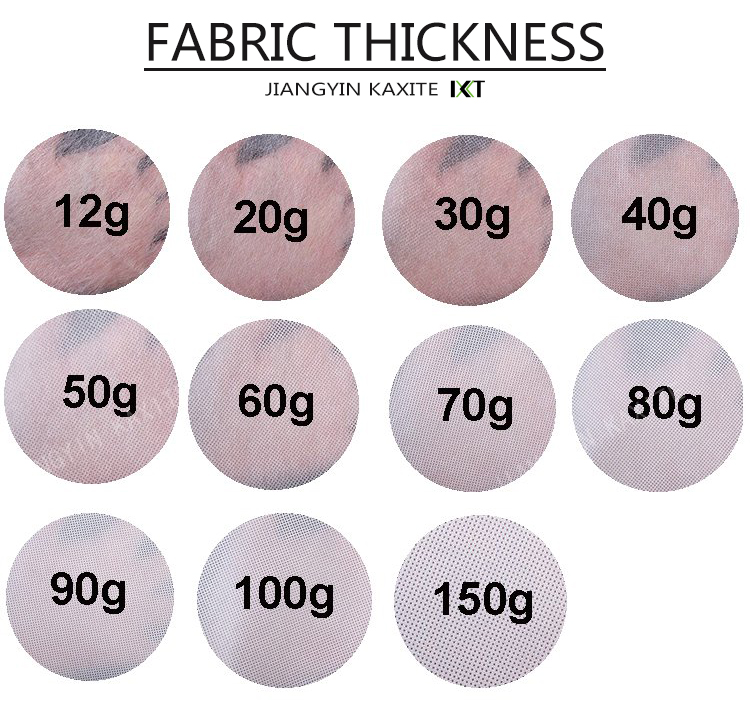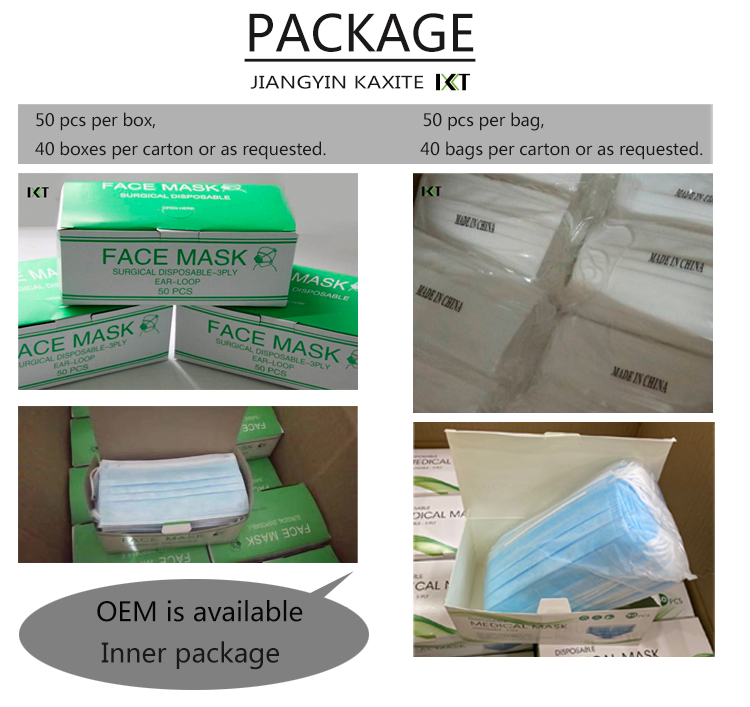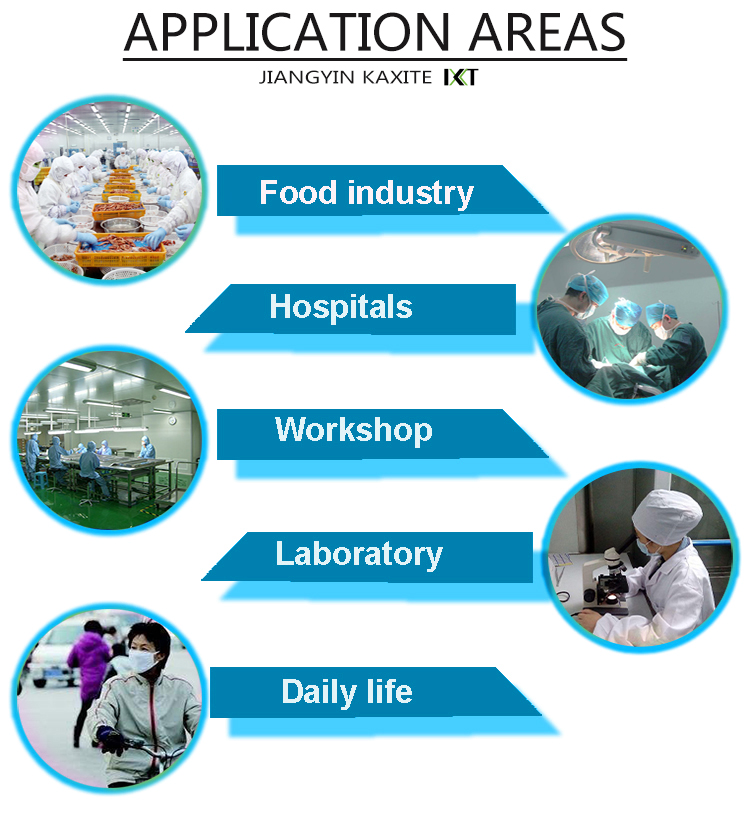 ABOUT KAXITE® TECHNOLOGY
Jiangyin Kaxite Energy-saving Materials Technology Co., Ltd (abb.: KAXITE TECHNOLOGY, KXT-TECH) was originally a family business, developing since 2001, now acting as a group, who has her own two divisions, Plastics Extrusion Division, Non-woven Division, and some high-tech cooperation projects, which supported by Nanjing University Of Science and Technology, Jiangyin Technology Bureau, Guangdong Nonferrous Metal Research Institute...
It is developing so fast and there're more than 150 employees in the group, with 2 factories, 3 offices, and 1 cooperated factory, 2 cooperated laboratories, all are located in China.
Hubei Kaxite Protective products Co., Ltd (Nonwoven Division of KAXITE TECHNOLOGY) was founded in September 2009, Registered capital of 5,000,000 CNY,located in Xiantao City Hubei province. It is a high-tech enterprise which owned R&D, production, sales and service for nonwoven fabrics and products.
FAQ